by Elyse Brightman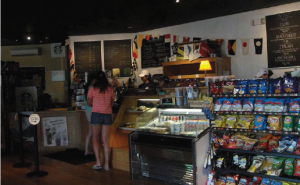 With few food options at many of the beaches, picking up a sandwich before a day trip has never been tastier. Edgartown Meat and Fish Market's deli offers a wide variety to choose from including a build your own sandwich. Located at the Edgartown Triangle and away from the cluster and traffic of downtown, it's a perfect location to pick up and go when rushing to find one of the few parking spots at a beach.
They have a menu of classic sandwiches like a turkey club, Italian and a B.L.T. or the sidecar with ham, cheese, romaine lettuce, onions and tomatos. There's also an extensive build-your-own menu to choose your perfect lunch like Genoa salami or blazin buffalo chicken. For people in a hurry, there's a limited selection of premade sandwiches and sides for a quick stop.
"Our signature specialty is steak and cheese. Since we are a meat market, we have the best selection and cuts of steak that we use in our café," says Sean Ready.
The deli opens at 6:30 a.m. and serves breakfast as well. Bagels, muffins, pastries and breakfast sandwiches are all available to choose from. It's also the only place on the island where Starbucks coffee is sold to give that extra boost to make it through the day. Try a new vanilla bean or strawberry lemonade frappuccino to satisfy that sweet tooth.
"The Cafe offers us the opportunity to introduce our meat products to our diners and makes them aware that they can return to our market counters and select the very same products to take home for their families," says Ready.
On rainy days, hangout and eat in the café with its two couches, flat screen TVs and multiple tables. Edgartown Meat and Fish Market's deli is a very affordable option for breakfast and lunch on the go or just relaxing in the lounge.
MORE INFO:
240 Vineyard Haven Road
508-627-6200
6 a.m. to 7 p.m.