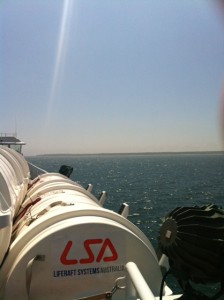 By Colin Stoecker
I recently moved to Martha's Vineyard from Boston, in search of an island summer that I have all but found here already. So much so really, that I honestly don't ever want to go back off-island. But as is customary in any situation where you find yourself split between two apartments, paying rent to two landlords for the month of July, and paying for Xfinity Wifi internet at an apartment that still receives your mail but that you no longer live in, there needs to be some sort of shortcut.
If you're a recent college graduate, and like me you planned your summer around and between visits to the beach, working in some of the island's upscale restaurants, biking through the scenic trails and state roads connecting the islands miniature New England towns, and blogging about the adventures, then take a hint from this article and come to the Vineyard.
The following is a do's and don'ts list for getting to and from Martha's Vineyard on a budget from Boston.
Don't take a taxi to any of the surrounding towns on the cape. A taxi ride cost me $70.00 and the driver, a college kid about my age even turned off the meter when it reached $70.00—what a nice guy. Remember that taxis charge by the mile and gas is included in that price.
Do check out the busses. The Plymouth Brockton, Greyhound, and Peter Pan busses can be an inexpensive way to get to and from Woods Hole, Falmouth, or the Hyannis ferry and Boston. They mostly enter the hub at South Station, which is right next to the Financial District, Downtown, and Chinatown. Busses also depart from Logan Airport in Boston and return nightly.
Do take an airplane. Another way to get to the island is by plane. Small charter planes run to an airport just outside of Edgartown from Logan, and depending on how good you are at finding cheap flights, or finding websites that part for you, a local carrier such as Cape Air might take considerably less time to get to the island. It may take an hour for a flight as opposed to four hours on a bus, train, and ferry.
Because you have to take a ferry, the Woods Hole ferry is the cheapest way to get to Martha's Vineyard; unless that is, you own your own boat and you have no need to read this article. Your ferry may be called "Island Home," and may travel at considerably fewer knots than the fast boat, but it will get you to Vineyard Haven or Oak Bluffs in approximately 45 minutes. The ticket is only $9.00 for one adult one way, a bike is around $4.00 more.
Do take the Cape's own public transit system. The CCRTA, or the transportation system on the cape connecting Hyannis, Falmouth, and Woods Hole among many other small coastal towns is a great and fairly inexpensive way to travel in between ferry, train, and bus stop while on the cape. The CCRTA busses come in a variety of shapes and sizes. You can take a bus for about $2.50 a trip.
Do rely on the MBTA for cheap train service. The Cape Flyer train is also significantly less advertised on the Cape, but in Boston it is an excellent way to get affordably to and from Boston's South Station to the Cape. It departs from South station around 8 am in the morning and leaves Hyannis around 6 pm. So don't miss out on these departure times as the train only runs twice a day and only on the weekends.
Don't drive a car. Yes, if you want to speed your way to the cape from Boston, jump in your trusty gas-guzzling four door. But parking will cost you more than a few dollars for the day, and the last time I checked, gas prices on MV were above $4.50 a gallon (not to mention the added cost of taking a car on the ferry). Also, summer traffic on the highway leaving Boston can be more trouble than it's worth, so I hope you got your AC checked out last time you were at the shop, in order to spend the hours trapped in your automobile as comfortably as possible.
Do take the VTA or Vineyard transit authority once on-island. The busses are simple to figure out with a paper map and travel all over the island for the price of a 2$ ticket, plus 1$ for every town you go through. Or invest in an annual pass for 100$ and ride the VTA busses for the rest of the season without worrying about a thing.
Do bring a bicycle. It is well worth the $4 extra dollars to bring your bike across on the ferry from Woods Hole. Everything is accessible by bike. Also, don't be afraid to attach your bike to the front of any of the VTA busses. The only question here is whether to bring your road bike with the skinny tires for cruising, or your mountain bike to conquer some serious trails. Don't forget a helmet.
Don't let yourself be daunted by the amount of time it may take from your Boston suburb to an island seven miles off the cape. A day, week, or summer trip to the Vineyard is a definite do this summer, or at least a way to escape from the go-go attitude in the hub!