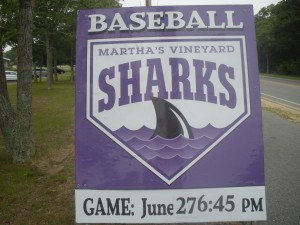 By: Elyse Brightman
Summer is baseball season and being on island doesn't mean you have to miss out.
The Martha's Vineyard Sharks is a team made up of top collegiate players looking to be drafted to the pros. They're part of the Futures Collegiate Baseball League (FCBL) and play a 54 game season plus playoffs. Other teams include: Brockton Rox, Nashua Silver Knights, North Shore Navigators, Old Orchard Beach Raging Tide, Pittsfield Suns, Seacoast Mavericks, Torrington Titans, and Wachusett Dirt Dogs. Notable alumni of the FCBL are Rhett Wiseman and Chris Shaw who now play for the Cubs and Mets.
Home games are played at the Vineyard Baseball Park (a.k.a. the Shark Tank) by Martha's Vineyard Regional High School. It's a great place to take the family on a summer night with their new stadium lighting and fenced in kids zone. On June 28 and July 19 the Sharks are having a "kids day" where kids 12 and under get into the game free.
It's head coach Mike Millers first season in charge. So far, he's led the Sharks to a 7-6 record. Their next home game is Friday, June 28 at 5:45.
Tickets are $6 for adults, $5 for seniors and $4 for children 12 and under. Parking is free at the high school.