by Natasha Heinz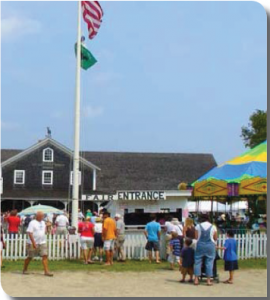 It's that time of the year again. From Thursday, August 17th, to Sunday, August 20th, West Tisbury will be the home of the 156th Martha's Vineyard Agricultural Fair & Livestock Show. As history shows, the event is a classic one for the Martha's Vineyard community.
Celebrating the island's farming tradition, the fair provides entertainment for visitors of all ages with amazing food, incredible arcade games and fun carnival rides. Kids have the opportunity to see newborn piglets, goats, and sheep close up. Parents, meanwhile, should prepare to be impressed by the blue-ribbon winning quilts, jams, and pumpkins on display in the main hall. And of course, no one should leave before riding the Ferris Wheel. Thursday, Friday, and Saturday, August 17th to 19th, the event is open from 10 a.m. to 11 p.m.. Sunday, August 20th, the fair ends with a 7 p.m. close.
Every day is filled with judged events guaranteed to entertain the entire family. From bakers competing to make the best double-crusted pies to women competing in a long-distance skillet-throw to wranglers trying ox-harnessing, the events are widely interesting and entertaining.
The fair's stage will also be full all day long with puppet shows, dance numbers and live music. The full schedule is included below.
Food is always an important element of a fair. The MV Agricultural Society offers the most delicious dishes, including guilty pleasures such as cotton candy, onion rings and fried dough.
To truly appreciate the fair and how fair it has come while still maintaining old-fashioned charm, you much know its delicious and rich roots.
The island's first Agricultural Society Fair was held on October 26, 1858. Back then, the 1,800 attendees made their way to West Tisbury on horseback. Today, the best way to get there is via car or public transportation. Hope on bus #6, which has frequent runs to and from the fair.
You can access the route's schedule at online. If you are driving, parking is available on-site for $5 all day.
Tickets are purchased at the door and cost $10 for adults, and $5 for children 5-12 and adults over 62. For children under 5 and Agricultural Society Members holding Membership cards, entrance is free.
MORE INFORMATION
156th Martha's Vineyard Agricultural Fair & Livestock Show
August 17, 18, 19 and 20, 2017
10 a.m. to 11 p.m.
Tickets: $10 Adults, $5 Children 5-12 & Adults 62+. Children under 5 and Agricultural Society Members holding Membership cards are free.
Martha's Vineyard Agricultural Society, Panhandle Road, West Tisbury, MA
marthasvineyardagriculturalsociety.org